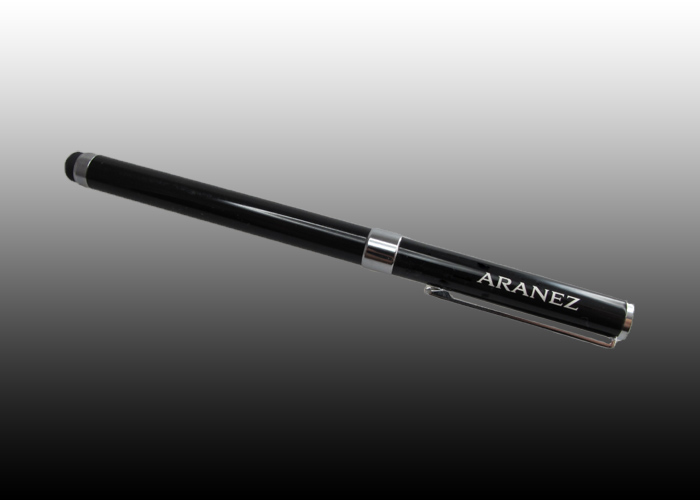 Very proud to show case with you the Aranez Duo iPad stylus which has already been a hit with our customers. Of course other than looking like something that James Bond would carry with him, the Aranez Duo iPad stylus combines a high quality gel ballpoint pen with an amazingly accurate iPad stylus.
Features of the Aranez Duo iPad Stylus:
Features accurate stylus nib that works on all iPads and iPhones (capacitive touch screens)
Built in high quality GEL ink ballpoint pen
Stylish thin and light design
Pocket clip for easy carrying
Stainless steel silver plated accents
Works on all iPad and iPhone models
Works on all capacitive touch screen devices
The Aranez Duo iPad Stylus is now available on the Aranez website for USD $29.95.
Press Release Aranez Duo iPad Stylus:
Hong Kong: Today Aranez announced their newest luxury accessory for the iPad: the Aranez Duo iPad Stylus. This iPad stylus is unique in that it also incorporates a high quality gel ink ballpoint pen, thereby combining two important functions into one.

Today Aranez released news of their latest luxury accessory for the iPad: the Aranez Duo iPad Stylus. With the massive world-wide popularity of the iPad and iOS game apps like OMGPOP's DrawSomething, Aranez recognised consumers' need for a more accurate form of touch input on to the iPad. On top of this, Aranez have created an iPad stylus that also incorporates a high quality gel ink ballpoint pen. The result is the light and fashionable Aranez Duo iPad Stylus.

"I play DrawSomething with my friends and it's almost impossible to do a decent drawing with just your fingers." said Arnold Aranez, founder of Aranez.com. "We didn't want to burden people with another gadget to carry, so we decided to incorporate a pen which is something that most people like to have handy anyway. And of course, our final product (Aranez Duo iPad Stylus) had to be the best looking of them all".

Aranez has become a popular choice for luxury cases, shipping to 23 countries in only less than 12 months of operation. The popularity is based on three major design principles for each case: style, functionality and protection. In the case of the Aranez Duo iPad Stylus, the emphasis has again been on style and functionality.

Features of the Aranez Duo iPad Stylus:
- Features accurate stylus nib that works on all iPads and iPhones (capacitive touch screens)
- Built in high quality GEL ink ballpoint pen
- Stylish thin and light design
- Pocket clip for easy carrying
- Stainless steel silver plated accents
- Works on all iPad and iPhone models
- Works on all capacitive touch screen devices

The Aranez Duo iPad Stylus is now available on the Aranez website for USD $29.95.

For distributors or retailers looking to stock the Aranez Duo iPad Stylus please email : contact at aranez dot com.

Follow Aranez on Twitter: @aranez